Speculative Fiction: if the world were different in this one small way, what would happen?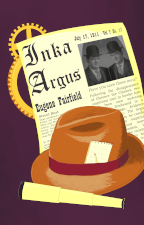 Latest: my steam-punk mystery, The Inka Argus, is now on sale at Amazon! For older children and teens. You can preview the first few chapters free.
The second volume of Peredur, Pa Gur, is online. An Arthurian epic set several years after the aliens conquer Earth.
Check out my circus extravaganza, The Flying Ems, for older children and young adults, as well as my epic fantasy novel, The Heron in His Vigilance, book 1 in The Fellowship of the Unloved.
For more about the world of The Heron In His Vigilance, visit
The Fellowship of the Unloved website
Glossary of the Old Tongue
Heraldic Terms Explained
A map of lowland country
Special Features
Forest Recipes
more